Real Madrid FanClub
Konwin4plus.neocities.org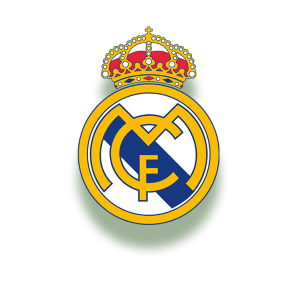 Cristiano Ronaldo in Real Madrid
Cristiano Ronaldo dos Santos Aveiro (born 5 February 1985) is a Portuguese professional footballer who plays for Spanish club Real Madrid and the Portugal national team. He is a forward and serves as captain for Portugal. In 2008, he won his first Ballon d'Or and FIFA World Player of the Year awards. He then won the FIFA Ballon d'Or in 2013 and 2014. In 2015, Ronaldo scored his 500th senior career goal for club and country.
Often ranked as the best player in the world, Ronaldo was named the best Portuguese player of all time by the Portuguese Football Federation, during its 100th anniversary celebrations in 2015. He is the only player to win four European Golden Shoe awards. One of the most marketable athletes in sport, in 2016 Forbes named Ronaldo the world's best paid athlete. In June 2016, ESPN ranked him the world's most famous athlete.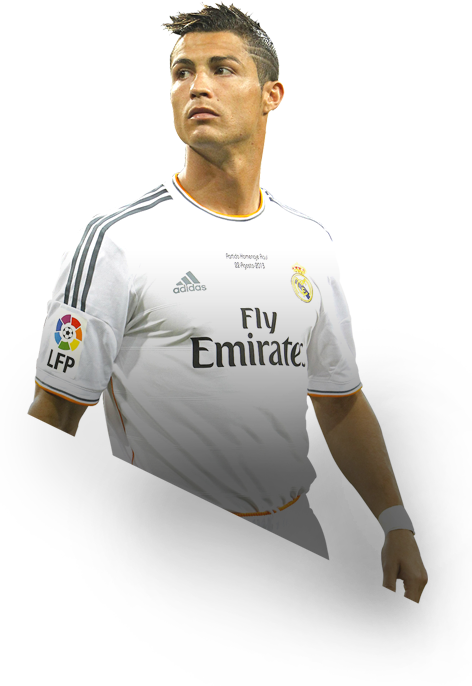 Ronaldo made his international debut for Portugal in August 2003, at the age of 18. He is Portugal's most capped player of all time with over 130 caps, and has participated in seven major tournaments: four UEFA European Championships (2004, 2008, 2012 and 2016) and three FIFA World Cups (2006, 2010 and 2014). He is the first Portuguese player to reach 50 international goals, making him Portugal's all-time top goalscorer.
He scored his first international goal in Euro 2004 and helped Portugal reach the final. He took over captaincy in July 2008, and he led Portugal to the semi-finals at Euro 2012, finishing the competition as joint-top scorer. In November 2014, Ronaldo became the all-time top scorer in the UEFA European Championship (including qualifying) with 23 goals. At Euro 2016, he became the most capped player of all-time in the tournament, the first player to score at four consecutive European Championship finals, and also equalled Michel Platini's all-time record for most goals scored in the competition. Ronaldo lifted the trophy after Portugal defeated France in the final, and he received the Silver Boot as one of the second-highest goalscorers of the tournament.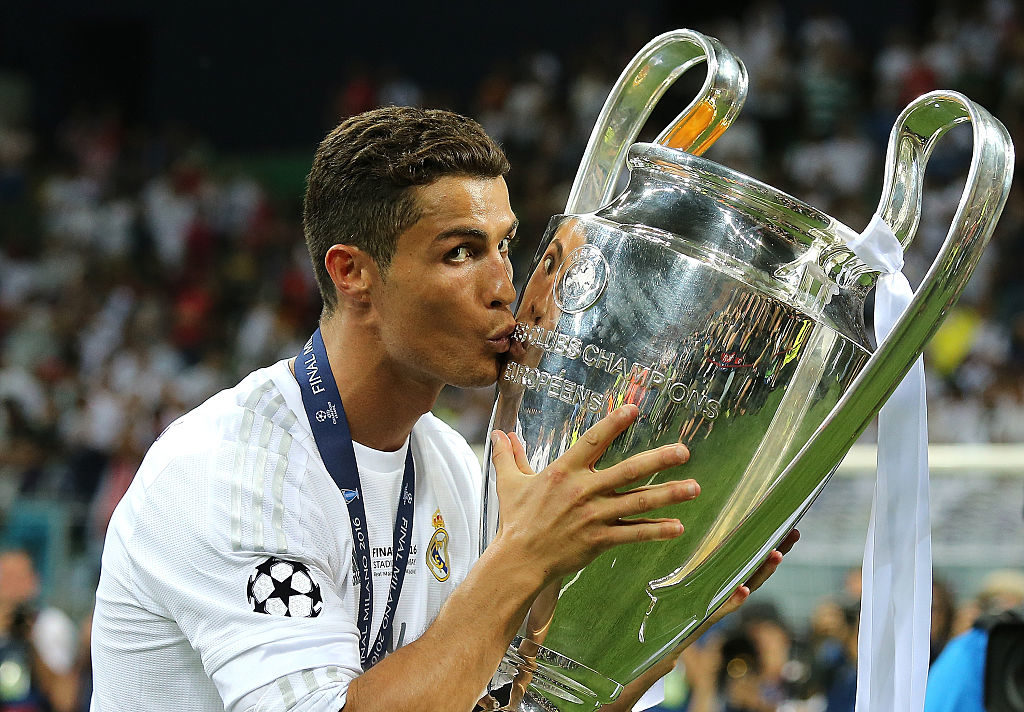 Style of Play
A versatile attacker, Ronaldo is capable of playing on either wing as well as through the centre of the pitch, and while ostensibly right-footed, is very strong with both feet.He ranks among the world's fastest footballers, both with and without the ball.Tactically, Ronaldo has undergone several evolutions throughout his career. While at Sporting and during his first season at Manchester United, he was typically deployed as a traditional winger on the right side of midfield, where he regularly looked to deliver crosses into the penalty area. In this position, he was able to use his pace and acceleration, agility, and technical skills to take on opponents in one-on-one situations. Ronaldo became noted for his dribbling and flair, often displaying an array of tricks and feints, such as the stepovers that became his trademark.
As Ronaldo matured, he underwent a major physical transformation, developing a muscular body type that allows him to retain possession of the ball.His strength, combined with his elevation and height of 1.85 m (6 ft 1 in), awarded him an edge in winning aerial challenges for balls; consequently, many of his goals have been headers. Concurrently with his increased stamina and work-rate, his goalscoring ability improved drastically on the left wing, where he was given the positional freedom to move into the centre to finish attacks. He also increasingly played a creative role for his team, participating in build-up plays courtesy of his good vision and passing ability.In his final seasons at United,Ronaldo played an even more attacking and central role, functioning both as a striker and as a supporting forward, or even as an attacking midfielder on occasion.
He developed into a prolific goalscorer, capable of finishing well both inside the penalty area and from distance with an accurate and powerful shot. An accuratepenalty kick taker,he also became a set piece specialist, renowned for his powerful, bending free kicks, though his ability in this regard deteriorated later on in his career.At Real Madrid, he continued to play a more offensive role, while his creative and defensive duties became more limited.Initially deployed as a centre-forward, he was later moved back onto the left wing, though in a free tactical role, allowing him to drift into the centre at will. Madrid's counter-attacking style of play allowed him to become a more efficient and consistent player, as evidenced by his record-breaking goalscoring feats. From 2013 onwards, he effectively adapted his style to the physical effects of ageing with increasingly reduced off-the-ball movement and general involvement, instead focusing on short-distance goalscoring.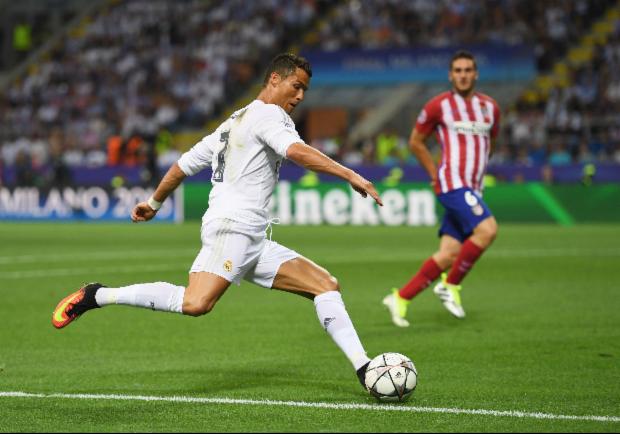 Club career
Sporting CP
At age 16, Ronaldo was promoted from Sporting's youth team by first-team manager László Bölöni, who was impressed with his dribbling. He subsequently became the first player to play for the club's under-16, under-17, and under-18 teams, the B team, and the first team, all within one season. A year later, on 7 October 2002, Ronaldo made his debut in the Primeira Liga, against Moreirense, and scored two goals in their 3–0 win.Over the course of the 2002–03 season, his representatives suggested the player to Liverpool manager Gérard Houllier and Barcelona president Joan Laporta. Manager Arsène Wenger, who was interested in signing the winger, met with him at Arsenal's grounds in November to discuss a possible transfer.Ronaldo came to the attention of Manchester United manager Alex Ferguson in August 2003, when Sporting defeated United 3–1 at the inauguration of the Estádio José Alvalade in Lisbon.
His performance impressed the Manchester United players, who urged Ferguson to sign him.Ferguson himself considered the 18-year-old "one of the most exciting young players" he had ever seen. A decade after his departure from the club, in April 2013, Sporting honoured Ronaldo by selecting him to become their 100,000th member.
In Manchester United
Ronaldo became Manchester United's first-ever Portuguese player when he signed before the 2003–04 season. His transfer fee of £12.24 million made him, at the time, the most expensive teenager in English football history. Although he requested the number 28,his number at Sporting, he received the number 7 shirt, which had previously been worn by such United legends as George Best, Eric Cantona, and David Beckham.Wearing the number 7 became an extra source of motivation for Ronaldo, who stated that his goal was to establish himself among the world's best players within the next three years. A key element in his development during his time in England proved to be his manager, Alex Ferguson, of whom he later said, "He's been my father in sport, one of the most important and influential factors in my career".Although his World Cup altercation with Rooney resulted in Ronaldo being booed throughout the 2006–07 season, it proved to be his breakout year, as he broke the 20-goal barrier for the first time and won his first Premier League title.
An important factor in this success was his one-to-one training by first-team coach René Meulensteen, who taught him to make himself more unpredictable, improve his teamwork, call for the ball, and capitalise on goalscoring opportunities rather than waiting for the chance to score the aesthetically pleasing goals for which he was already known. His upturn in form was showcased in November when he received a standing ovation from a section Blackburn Rovers supporters as he was substituted. He scored three consecutive braces at the end of December, against Aston Villa—a victory which put United on top of the league—Wigan Athletic, and Reading. Ronaldo was named the Premier League Player of the Month in November and December, becoming only the third player to receive consecutive honours.
Ronaldo scored his first Champions League goal of the season, and his first since the final against Chelsea, in a 2–0 victory over Inter Milan, sending United into the quarter-finals. His match-winning goal in the second leg against Porto, a 40-yard strike, earned him the inaugural FIFA Puskás Award, presented by FIFA in recognition of the best goal of the year; he later called it the best goal he had ever scored. He scored twice against Arsenal, including a free kick from 39 yards, as United advanced to the final in Rome where he made little impact in United's 2–0 defeat to Barcelona. Ronaldo ended his time in England with nine throphies, as United claimed their third successive Premier League title and a Football League Cup.He finished the campaign with 26 goals in all competitions, 16 goals fewer than the previous season, in four more appearances. His final ever goal for Manchester United came on 10 May 2009 with a free kick in the Manchester derby at Old Trafford.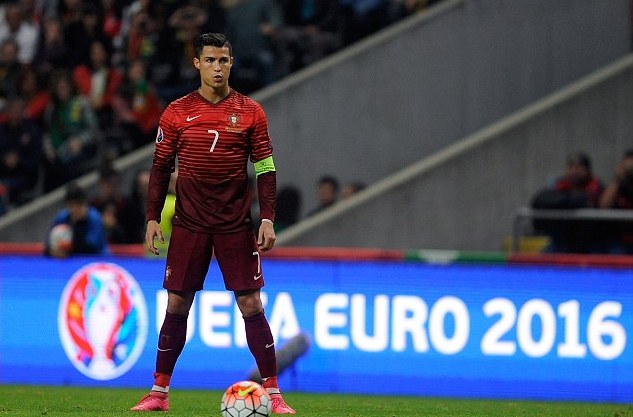 In Real Madrid
Ahead of the 2009–10 season, Ronaldo joined Real Madrid for a world record transfer fee of £80 million (€94 million). His contract, which ran until 2015, was worth €11 million per year and contained a €1 billion buy-out clause. At least 80,000 fans attended his presentation at the Santiago Bernabéu, surpassing the 25-year record of 75,000 fans who had welcomed Diego Maradona at Napoli.Since club captain Raúl already wore the number 7, Ronaldo received the number 9 shirt, which was presented to him by Madrid legend Alfredo Di Stéfano.Following the 2012–13 winter break, Ronaldo captained Real Madrid for the first time in an official match, scoring a brace to lift 10-man Madrid to a 4–3 victory over Real Sociedad on 6 January. He subsequently became the first non-Spanish player in 60 years to captain Madrid in El Clásico on 30 January, a match which also marked his 500th club appearance.
Three days prior, he had scored his 300th club goal as part of a perfect hat-trick against Getafe. Following hat-tricks against Celta Vigo and Sevilla,he scored his 200th goal for Real Madrid on 8 May in a 6–2 win against Málaga, reaching the landmark in just 197 games. He helped Madrid reach the Copa del Rey final by scoring a brace in El Clásico, which marked the sixth successive match at Camp Nou in which he had scored, a scoring streak twice as long as that of any other player in Madrid's history.
In the final, he headed the opening goal of an eventual 2–1 defeat to Atlético Madrid, but was shown a straight red card in the 114th minute for violent conduct.Real Madrid also failed to defend their La Liga title, finishing runners up to Barcelona.In the Copa del Rey, Ronaldo helped Madrid reach the final by scoring a brace of penalties against Atlético Madrid at the Vicente Calderón, the first of which meant he had now scored in every single minute of a 90-minute football match. His continued issues with his knee and thigh caused him to miss the final, where Real Madrid defeated Barcelona 2–1 to claim the trophy. While Madrid were less successful in La Liga, finishing third, Ronaldo was unmatched as a goalscorer. He scored 31 goals in 30 league games, which earned him the Pichichi and the European Golden Shoe, receiving the latter award jointly with Liverpool striker Luis Suárez.Among his haul was his 400th career goal, in 653 appearances for club and country, which came with a brace against Celta Vigo on 6 January; he dedicated his goals to Portuguese legend Eusébio, who had died two days before. A last-minute, backheeled volley scored against Valencia on 4 May—his 50th goal in all competitions—was recognised as the best goal of the season by the Liga de Fútbol Profesional, which additionally named Ronaldo the Best Player in La Liga.
Despite finishing runner-up to Messi for the FIFA Ballon d'Or, Ronaldo received criticism for his form and performances against top teams, with 14 of his goals coming against Espanyol and Malmö.During the second half of the season, however, his form gradually improved. By scoring four goals in a 7–1 home win over Celta Vigo on 5 March 2016, Ronaldo arrived at 252 goals in La Liga to become the competition's second-highest scorer in history behind Messi.
After netting the match-winning goal for 10-man Madrid in a 2–1 Clásico victory on 2 April, he scored a hat-trick against Wolfsburg to send his club into the Champions League semi-finals despite a 2–0 first-leg defeat.The treble took his tally in the competition to 16 goals, making him the top scorer for the fourth consecutive season and the fifth overall. Suffering apparent fitness issues, Ronaldo gave a poorly-received performance in the final against Atlético Madrid, in a repeat of the 2014 final, though his penalty in the subsequent shoot-out secured La Undécima, Madrid's 11th victory. For the sixth successive year, he ended the season having scored more than 50 goals across all competitions.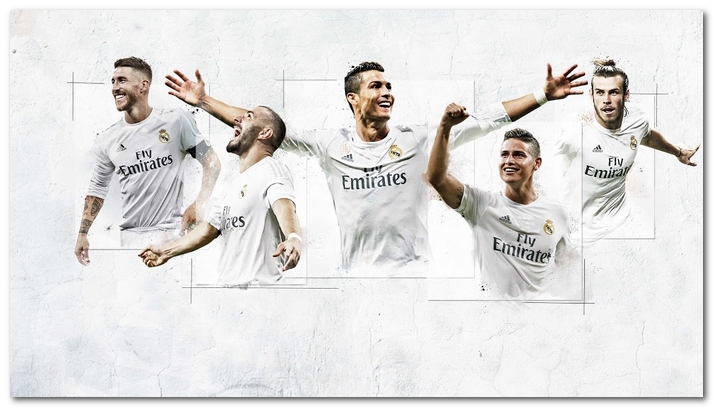 International Career
A Portuguese international, Ronaldo began his youth career in 2001. Apart from the under-15 team, he also represented the under-17, under-20, under-21, and under-23 national sides, amassing 34 youth caps and scoring 18 goals overall. He represented his country at the 2002 UEFA European Under-17 Football Championship, where they failed to progress past the group stage. Ronaldo also featured in the Olympic squad at the 2004 Summer Olympics, scoring one goal in the tournament, though the team was eliminated in the first round, finishing bottom of their group with three points after 4–2 defeats to eventual semi-finalists Iraq and quarter-finalists Costa Rica.
At age 18, Ronaldo earned his first senior cap in a 1–0 victory over Kazakhstan on 20 August 2003. He was subsequently called up for UEFA Euro 2004, held in his home country,and scored his first international goal in a 2–1 group stage loss to eventual champions Greece.After converting his penalty in a shootout against England at the quarter-final stage, he helped Portugal reach the final by scoring the opening goal in a 2–1 win over the Netherlands, but the crucial last match ended in a 0–1 defeat. He was featured in the team of the tournament, having provided two assists in addition to his two goals.Ronaldo was the second-highest scorer in the European qualification for the 2006 FIFA World Cup with seven goals. During the tournament, he scored his first World Cup goal against Iran with a penalty kick in Portugal's second matchof the group stage. In the quarter-finals against England, his Manchester United teammate Wayne Rooney was sent off for stamping on Portugal defender Ricardo Carvalho.
Although the referee later clarified that the red card was only dueto Rooney's infraction,the English media speculated that Ronaldo had influenced his decision by aggressively complaining, after which he was seen in replays winking at Portugal's bench following Rooney's dismissal. Ronaldo was subsequently booedduring their 1–0 semi-final defeat to France. FIFA's Technical Study Group overlookedhim for the tournament's Best Young Player award, citing his behaviour as a factor in the decision.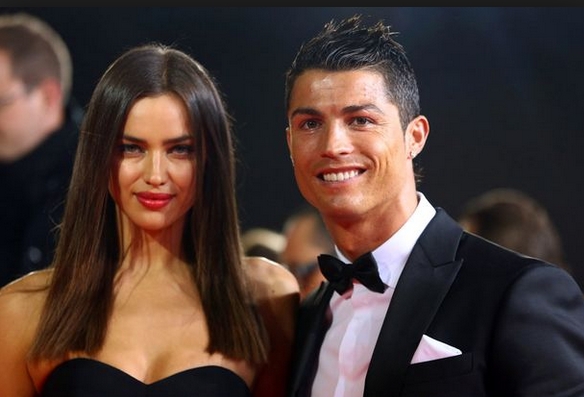 Personal Life
Ronaldo's father, José Dinis Aveiro, died of an alcoholism-related liver condition at the age of 52 in September 2005 when Ronaldo was 20. Ronaldo has said that he does not drink alcohol and he received libel damages over a Daily Mirror article that reported him drinking heavily in a nightclub while recovering from an injury in July 2008.
In October 2005, a month after his father died, Ronaldo was arrested on suspicion of raping a woman in a London hotel and released on bailใ Ronaldo denied the allegations and charges were dropped by Scotland Yard in November 2005 due to "insufficient evidence". Ronaldo issued a statement saying: "I have always strongly maintained my innocence of any wrong-doing and I am glad that this matter is at an end so that I can concentrate on playing for Manchester United".
Ronaldo became a father on 17 June 2010 following the birth of a son. The child, named Cristiano, and nicknamed by the family 'Cristianinho',was born in the United States, and Ronaldo announced that he had full custody. Ronaldo has never publicly revealed the identity of his son's mother. Ronaldo has previously dated English models Alice Goodwinand Gemma Atkinson. In 2010, he began dating Russian model Irina Shayk, whom he reportedly met through their Armani Exchange campaigns. Ronaldo and Shayk appeared together on the May 2014 cover of Vogue's Spanish edition. The couple ended their relationship in January 2015.He is a Roman Catholic. Ronaldo does not have tattoos as it would prevent him from donating blood, which he does several times a year. In August 2015, Ronaldo bought an $18.5 million loft in Trump Tower in New York City.
Being professionals in the field of sport betting, sbobet expose online sportbook to hundreds and thousands of Internet users - many of them gamble for fun, while others do it for money. Sbobet is an online bookmaker that operations in Asia that offers betting on all major sports, online games, racing, financial betting and poker in multiple languages.